Contact
information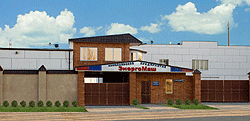 De jure address:
Nikolaev, Metallurgov st. 228
Adress:
Nikolaev, Metallurgov st. 228
Phone numbers:
Sales department (tel./fax):
+38 (0512) 64-42-78.
Reception (tel. / fax):
+38 (0512) 64-41-83.
Personnel department (tel.)
+38 (0512) 64-42-79.
Accounts department (tel.)
+38 (0512) 64-41-00.
E-mail:
info@nikolaevenergomash.com.ua
m.p.energomash@gmail.com
Skype Name:
mp.energomash
Sales houseLLC "Zavod Energomash"
phone: +38 (0512) 64-42-78
phone/fax: +38 (0512) 64-41-83
e-mail:
zavod@nikolaevenergomash.com.ua
zavod.nikenergomash@gmail.com
Energomash map:
Catalog Energomash:
download
NE
"Energomash"
Co. Ltd
NE "Energomash" Co. Ltd specializes on producing, repairing and upgrading of complex compressor equipment and spare parts. The main consumers of equipment and services are the engineering, oil refining, cement and chemical industries, mining and processing enterprises, non-ferrous and ferrous metallurgy enterprises. The reliability of manufactured equipment allows using it effectively by the enterprises, taking care of energy saving and reducing the number of staff.
The pledge of high quality products with NE "Energomash" Co. Ltd. brand are experience, the use of modern tools and technologies, cutting-edge design solutions, taking into account and exploitation of the region-specific customer requirements. "NE Energomash" Co. ltd. has a certificate of quality management system ISO 9001:2008 standard.
The creative potential of the company is the team of highly skilled specialists, fascinated by the interesting work and capable of solving complex problems in modern scientific and technical level. We are working on the principle of individual approach to each client, considering him an integral part of any commercial success. The development strategy of our company is based on systematic analysis of accumulated experience, adapted to modern market conditions and to fully meet the interests of consumers, allows to confidently go to the target - to become a leader in compressor technology in Ukraine and CIS countries.
For comments and suggestions of consumers introduced structural improvements to increase reliability and durability of the compressor equipment, upgrading its technical and economic indicators.
NE "Energomash" Co. Ltd has the opportunity to conduct maintenance, modernizing, repair and overhaul of compressor equipment, automatic control systems (ACS), the whole range of spare parts for centrifugal compressors and blowers of all types by customer's drawings or analog products with a warranty issue passports to the customer. If necessary, the specialists of our company go to the site for sizing, development of manufacturing technology and maintenance.
Increasing production volumes, the company constantly expands the range of manufactured equipment and systematically introduces advanced development. Modern, from a technical point of view, quality of performance equipment of our company at a price outperforms many of its competitors. This NE "Energomash" Co. Ltd. not only holds a leading position in the domestic market of its country, but also works closely with enterprises of Russia, Latvia, Lithuania, Estonia, Bulgaria, Uzbekistan, Kazakhstan, Turkmenia, India, Mongolia, other countries of Europe and Middle East.
Certificates
and Licenses
Energomash