Compressors
catalog
Compressor high pressure Ê-250-61-5
Centrifugal compressor ÖÒÊ-275/9
Centrifugal compressor Ê-250-61-5 block option
Centrifugal compressor Ê-250-61-5 not block option
Centrifugal compressor ÖÒÊ-275/9 block option
Compressor high pressure Ê-500
Compressor high pressure Ê-525
Compressor high pressure ÖÊ-135/8
Turbine compressor ÒÊ-255/7
Compressor air ÕÒÊ-2,5/3,5Ì1
Compressor air ÊÒÊ-7/14
Compressor ÃÒÊ 7/5Ì
Centrifugal compressor ÖÊ 135/8Ì1
Compressor air ÊÒÊ-9,6/26
Compressor air ÊÒÊ-12,5/35
Centrifugal compressor ÖÊ-125/8 block
Compressor air 4ÂÐÊ-150/280 block
Centrifugal compressor ÖÊ-165/8 block
Compressor air 4ÂÐÊ-200/340 block
Centrifugal compressor ÖÊ-255/8 block
Compressor air 4ÂÐÊ-250/430 block
Centrifugal compressor ÖÊ-255/8 block
Centrifugal compressor ÖÊ-135/8 block
Centrifugal compressor ÖÊ-135/8 frameless
Compressor air ÖÊ-115/9 block
Compressor air ÖÊ-115/9 frameless
Compressor air Ê-150 block
Compressor ÖÊ-100/6,5 block
Industrial compressors ÒÊ-250/8 block
Compressor air 4ÂÐÇ-250/430 not block
Compressor air 4ÂÐÇ-250/430 block
Industrial compressors Ê-500 not block
Industrial compressors Ê-525 not block
Compressor ÌÝÌ-125/8
Compressor ÌÝÌ-100/8
Compressor air 6ÂÂ-25/9
Compressor air 6ÂÂ-32/7
Compressor air 7ÂÊÌ-50/8
Turbocharger unit 32ÂÖ-100/9
Centrifugal compressor machine ÒÊÀ 80/9
Centrifugal compressor machine ÒÊÀ 130/9
Centrifugal compressor machine ÒÊÀ 250/9
Forced-draft machine compressor ÂÌ-15
Forced-draft machine compressor ÂÌ-17
Turbocharger gas, multistage 2ÒÃ-80-1,4
Turbocharger gas, multistage 2ÒÃ-80-1,6
Turbocharger gas, multistage ÒÃ-80-1,8
Turbocharger gas, multistage 2ÒÃ-80-1,8
Turbocharger gas, multistage ÒÃ-300-1,6
Turbocharger gas, multistage ÒÃ-170-1,7
Turbocharger gas, multistage ÒÃ-200-1,4
Turbocharger gas, multistage ÒÃ-60-1,3
Turbocharger gas, multistage ÒÃ-66Ë-1,09
Turbocharger gas, multistage ÒÃ-200ÊÑ-1,4
Turbocharger air, multistage ÒÂ-42-1,4
Turbocharger air, multistage ÒÂ-50-1,6
Turbocharger air, multistage ÒÂ-80-1,2
Turbocharger air, multistage ÒÂ-80-1,4
Turbocharger air, multistage ÒÂ-80-1,6
Turbocharger air, multistage ÒÂ-80-1,8
Turbocharger air, multistage ÒÂ-300-1,6
Turbocharger air, multistage ÒÂ-175-1,6
Turbocharger air, multistage ÒÂ-200-1,4
Turbocharger single-stage, air ÒÂ-100-1,12
Turbocharger single-stage, air ÒÂ-200-1,12
Turbocharger single-stage, air ÒÂ-350-1,06
Turbocharger single-stage, air ÒÂ-500-1,08
Turbocharger single-stage, air ÒÂ-125-5,5
Turbocharger single-stage, air 3ÒÂ-200-1,12
Turbocharger single-stage, gas ÒÃ-65-1,06
Turbocharger single-stage, gas ÒÃ-150-1,12
Turbocharger single-stage, gas ÒÃ-150-1,14
Turbocharger single-stage, gas ÒÃ-300-1,18
Turbocharger single-stage, gas ÒÃ-350-1,06
Turbocharger single-stage, gas ÒÃ-500-1,08
Blower high pressure ÂÂÄÍ-15
Blower high pressure ÂÂÄÍ-17
Blower mill hot blast ÂÌ-40/750-11Ó
Blower mill hot blast ÂÌ-50/1000-11Ó
Blower hot blast ÂÃÄ-40/380
Blower hot blast ÂÃÄÍ-15Ì
Blower hot blast ÂÃÄÍ-17Ì
Blower mill aggressive gas ÂÌÍ-15
Blower mill aggressive gas ÂÌÍ-17
Blower mill aggressive gas ÂÌÍ-15Ì
Blower mill aggressive gas ÂÌÍ-17Ì
Blower for aggressive gas ÂÍÆ-13,5
Blower for aggressive gas ÂÍÆ-15,5
Exhauster with undercarriage Ä-15/140
Exhauster with undercarriage Ä-60/310
Exhauster with undercarriage Ä-90/410
Exhauster with undercarriage ÄÍ-15Ó
Exhauster with undercarriage ÄÍ-17Ó
Exhauster aggressive gas without undercarriage ÄÍ-8ÍÆÓ
Exhauster aggressive gas without undercarriage ÄÍ-9ÍÆÓ
Exhauster aggressive gas without undercarriage ÄÍ-10ÍÆÓ
Exhauster aggressive gas without undercarriage ÄÍ-11,2ÍÆÓ
Exhauster aggressive gas without undercarriage ÄÍ-12,5ÍÆÓ
Exhauster for aggressive gas with undercarriage ÄÍ-15ÍÆÓ
Exhauster for aggressive gas with undercarriage ÄÍ-17ÍÆÓ
Network centrifugal pump ÑÖÍ 2500/180-8
Network centrifugal pump ÑÖÍ 1250/140-11
Network centrifugal pump ÑÖÍ 1250/70-11
Compressors
technics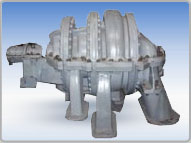 Today, the plant produces the following types of compressor technology: turbo compressor units intended to compress and move the air and gas of K-250, K-500, K-525, K-1500, CC-115 / 9, CC-135 / 8 , CTC-275 / 9, CTC 7 / 14, CTC 12,5 / 35 types, relate to the cars of dynamic action. The advantages of centrifugal compressors include: better performance attainable by high-speed operating environment; continuity of supply of gas without its pollution of lubricating oil; high resource, due to the lack of wearing parts; the possibility to automation, control and remote control.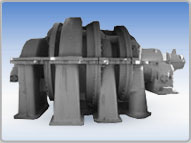 Compressors C-250, K-500, K-525, K-1500, CC-135, CTC-275 / 9 were the first centrifugal compressors, developed at the plant in 1997.
The structure of this equipment includes compressor, gearbox, intermediate and end air coolers, set sockets to connect the compressor with intermediate air coolers, choker, reverse and antistall valves. Impellers are made of high corrosion-resistant steel, that causes their high level of resource. The original design of the labyrinth seal provides superior sealing, and maintains a constant level of leakage during operation. Compressor bearings provide a stable position of shafts in the starting period and during operation, reducing vibration to a minimum.
Gear is a one-step rising chevron spur gear.
Regulation of the inlet machine pressure produces with a choker.
Lubrication system consisting of compressors available in the form of devices (oil tank, startup pump, oil cooler, valves, pipes, etc.) installed and connected to the system as the unit, assembled in the plant. Compressor shaft is the synchronous motor STD.
Machine controls by complete device UKAS-AM. Output of manufactured equipment is from 100 to 1500 m3/min.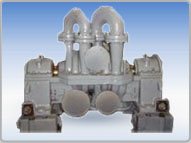 Since 2000 the plant started production of the oxygen compressor type CTC 7 / 14 and the CTC 12,5 / 35, which constitute machines with an external cooling of the compressed gas without guiding apparatus with a spiral casing of the gas after each stage and the outer bypass of gas from the stage to stage . The compressor unit consists of two (three) steps of injection, gearbox and electromotor. Support bearings of all shells are installed into the damping sleeves, that reduces the vibration of the rotor at nominal speed. To cool the gas after each section the intermediate and the end condensers are applied. Compressor shaft is the synchronous motor STD. Oxygen compressors control is carried out by a complete device UKAS-AM. Capacity of this equipment is 116-208 m3/min.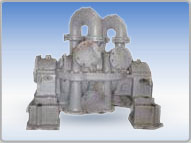 Our company offers a full range of spare parts (rotor, gearbox, gears, toothed gears, wheels and couplings, intermediate shafts, oil pumps, oil coolers, air coolers, gas coolers, tube packs, tube bundles, seals, bearings, valves, flaps, filters etc.).
Category
compressors technics
Compressors and refrigerator machines
Centrifugal compressors
Air, oxygen, nitrogen, gas compressors
Refrigerator machines, units
Piston compressors
Spiral compressors, air and gas
Spiral and piston refrigerator compressors and units
Compressors rotor, laminar, oil-injected
Turbochargers one and two-stage, air and gas
Compressors piston
Gas and steam turbine
Compressors with discharge pressure
Compressors air general assignment. Piston compressors.
Compressors special. Piston air compressors.
Piston gas compressors.
Air and gas compressors.

printable
Home page