Contact
information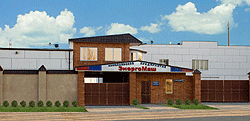 De jure address:
Nikolaev, Metallurgov st. 228
Adress:
Nikolaev, Metallurgov st. 228
Phone numbers:
Sales department (tel./fax):
+38 (0512) 64-42-78.
Reception (tel. / fax):
+38 (0512) 64-41-83.
Personnel department (tel.)
+38 (0512) 64-42-79.
Accounts department (tel.)
+38 (0512) 64-41-00.
E-mail:
m.p.energomash@gmail.com
Skype Name:
mp.energomash
Catalog:
download
About
company
NE "Energomash" Co. Ltd is one of the city-forming enterprises of Nikolayev (Ukraine). The enterprise produces equipment for the production and its components. The main specialization of NE "Energomash" Co. Ltd is producing of high quality air compressors of the following types: Turbochargers (centrifugal or axial compressors), piston compressors, screw compressors, industrial compressors, rotary compressors. Such specialization allows to the enterprise to cover a significant segment of the market and improve not only as a production, but also in supplied products service. This is especially important when working with such a precise and powerful technique as turbo compressors and other industrial compressors, which maintenance should be performed only by experienced and qualified professionals.

Equipment for the production, produced by NE "Energomash" Co. Ltd passes over all the necessary certification, what guarantees high quality and safety, and also allows to use their full capacity in different types of industry: mining and processing, oil refining, machine building, as well as in metallurgy. To the attention of customers are performed high-quality centrifugal blowers, which wide range allows to make the right choice for even the most specific functional and specializations.

Production and supply of goods is performed in time and taking into account all the wishes of the customer. If necessary, the workers of enterprise may visit the territory of the industrial capacity of the customer, to estimate the required amount of work and specification of the supplied equipment. As well, customers can count on quality and timely warranty service. Besides the main types of products : turbochargers, reciprocating compressors, screw and rotary compressors, gas turbines and centrifugal compressors, the company manufactures and supplies the necessary additional parts. That is making the order, for example, on a rotary or turbo, the customer receives not only the products but also a complete package of service and warranty, as well as the opportunity to chose all the necessary components. Delivery of products is carried out both in Ukraine and in Russia and other CIS countries.

NE "Energomash" Co. Ltd does not stop working on range expanding and on improving of the quality of service. At the moment the enterprise is certified according to ISO 9001:2008 standard in matters of quality management system that is an excellent reference for contractors. Social Responsibility, the principles of high quality and individual approach form the basis of business activity of enterprise.
Photogallery